Download Counter-strike 1.6 navi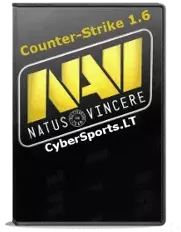 On December 17, 2009 was created the Ukrainian multi-functional cybersports organization Natus Vincere. Natus Vincere from the Latin translation means – born to win. In 2010 this team, for the first time in eSports history, won three main tournaments in one year. In the same year was published a vote on a team name, which was originally Arbalet.UA. The vote was held on the website hltv.org. From 2009 to 2012, the team composition was (later the composition changed): Ukraine (Kharkov) Daniil Teslenko – Zeus Ukraine (Kharkov) Ivan Suharjov – Edward Ukraine (Kiev) Sergey Ischuk – "Starix Ukraine (Lviv) Arseniy Trinozhenko – Ceh Ukraine (Dnepropetrovsk) Yegor Markelov – "Markeloff" Cs 1.6 Na'Vi is one of the most advanced, because it is made to protect against all types of spam and other external factors. Experts from various fields participated in this counter-strike 1.6, so everything was done to the finest details: music, background, model, GUI image, bots. Cs 1.6 Na'vi features:
1.Professional game assembling.
2.Stable with Windows7, Windows8, Windows10, WindowsXP, Windows Vista.
3.Unique SteamID.
4.Very powerful bots that effectively show themselves in the game.
5.Pleasant design.
6.Hands, players, weapon models made in Na'Vi style.
7.Protection against hacking or other malicious activity.
8.Available stable quality search servers.
9.Size 179 MB.