Counter-strike 1.6 CS:GO Edition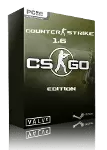 CS 1.6 CS:GO Edition mod is a Counter-Strike 1.6 collection in CS:GO style. Add high quality characters from the CS:GO game. Players and hostages have acquired new model from Global Offensive. Now skins looks much more realistic, thanks to high-quality texture and added fine details. The main feature of assembly is fully upgraded weapons. Each model is carefully designed and looks much more beautiful and better. Some types of models has changed completely. The game has completely changed sounds too. When you start the game, you will see a new interface with background and music. Radically changed shopping menu. Now this is CS:GO style shopping menu. The radar has been updated – it become black. So CS 1.6 CS:GO Edition mod is a great game collection with unique skins and high-quality texture symbols. Counter-Strike 1.6 CS:GO Edition game features: CS:GO player models;
CS:GO hostage models;
CS:GO hands and weapon models;
CS:GO sounds;
CS:GO music playing at the beginning; GUI and HUD from CS:GO;
Bots (Controls: "H");
Run on Windows XP, Windows 7, Windows 8, Windows 8.1, Windows 10, Windows Vista;
Fast installation (about 3min.);
File size 400 MB.